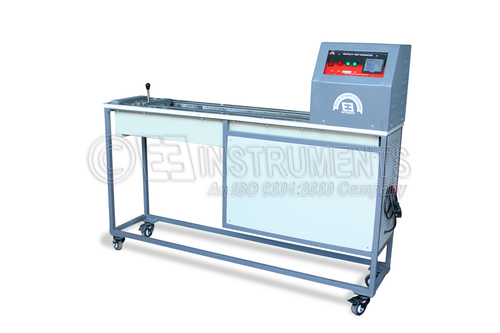 Ductility Testing Machine
Product Code : 23
Product Description
Ductility Testing Machine
We have emerged as one of the leading manufacturers, suppliers and exporters of Ductility Testing Machine. This machine is manufactured using high grade raw materials that are procured from certified vendors of the market. Our offered machine is manufactured employing latest technology in compliance with the international quality standards. This machine is known for robust construction, high tensile strength and longer service life. Our offered Ductility Testing Machine is an extensively used for various applications in surveying and construction industry.

The Testing Machine consist of the following:

Control Panel
Stainless steel bath
Immersion electric heater
Constant speed Pump cum stirrer
Electric motor with gear mechanism
Stainless steel scale and pointer
Temperature controller (Thermostatic/Digital)
Carriage holding up to three standard briquette moulds
OPTIONAL FITTINGS AT EXTRA COST
Digital display for Elongation
Base Plate for mould.
Mould for elastic recovery.
Digital Temperature indicator cum controller (in place of Thermostatic control)
Our advanced refrigeration system ensures better temperature control in tropical conditions.
The Machine is mounted on a steel stand with refrigeration unit at its base.
Specifications:
The apparatus consists of water bath with a thermostatic heater and a circulating pump to maintain uniform water temperature.
One half of the briquette moulds is fixed in a fixed plate in the water bath, the other half of the briquette mould is fixed to a carrier which slides over a rotating threaded shaft with a clutch.
The motor and gears to rotate the shaft are housed in a cabinet fixed above the other end of the both. A pointer fixed to the carrier moves over. a scale graduated from 0-110 cm x 1mm fixed on the bath with "0" (Zero) of the scale towards the fixed plates side.
The rotating shaft has 2 speeds of travel for the bracket, 5 cm/min. and 1cm/min. selected by a clutch. Water bath inside is of Stainless steel with insulation and a water drain. A heater with thermostatic control is fitted. inside the water bath.
Control switches for motor, stirrer, heater and indicator lamps are fitted to a control panel located at a convenient place on the water bath. Complete with three briquette moulds and one base plate. Working on 230 Volts, single phase, 50 cycles, AC.